Montessori Classroom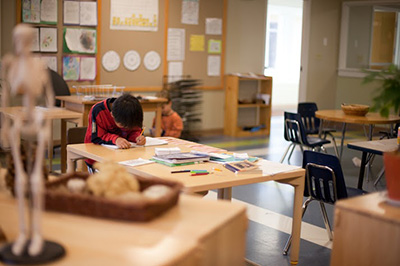 Venus Leah Photography
Montessori materials are designed to be attractive to children and stimulate their interest in learning. Among the best known are the golden bead material. Young children learn to use these to understand abstract mathematical concepts, such as adding, subtracting and multiplying.
Montessori classes, including those at BMS, usually consist of 30-48 children with 3-4 teachers who work in mixed age groups. This arrangement provides a flexible social environment and encourages both shared learning and independent growth. Children find peers within a three-year age span, and are able to develop social relationships at their own pace.
More experienced children are encouraged to assist less experienced children in classroom activities. This creates an atmosphere of respectful generosity and cooperation that children find satisfying.
In Montessori classrooms children are free to:
move purposefully around the classroom;
talk to and work with other children;
work with materials whose purpose they understand;
work on their own educationally relevant projects; or
ask a teacher to introduce new material.
They are not free to:
disturb other children at work, or
abuse the environment that is so important to their development.