Elementary Curriculum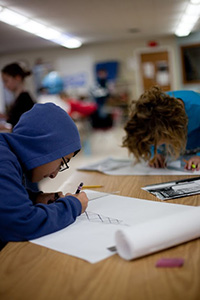 Venus Leah Photography
Maria Montessori – The Absorbent Mind
"We often forget that imagination is a force for the discovery of truth. The mind is not a passive thing, but a devouring flame, never in repose, always in action."
During the early elementary years children acquire the basic tools for reading, writing and mathematics, and in the later years continue to apply and refine these skills. Work is structured so that children apply their natural curiosity constructively to research-based projects. Children use the many resources of the classrooms, and are also encouraged to link their studies to real life in Bloomington and in the wider world.
Each child is encouraged to find a pace that is personally satisfying and productive. The elementary teachers devote much time and energy helping students become articulate, literate writers. This emphasis on the written word results from the conviction that literacy and the ability to express thoughts clearly will form the basis for all future intellectual development.
The elementary curriculum includes continuous, integrated experience for developing strong math and computer skills. The students also study the natural and physical sciences, history, and geography as well as art, music and Spanish.
A Detailed Look