Montessori Method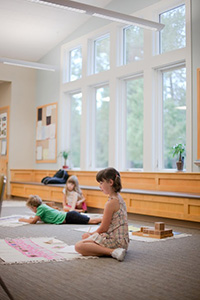 Venus Leah Photography
Maria Montessori – The Absorbent Mind
"The child's way is like that of the first tribesman to wander over the earth… The instinct to move about, to pass from one discovery to another, is a part of their nature, and it must also form a part of their education."
The Montessori method includes the use of a wide range of specially designed teaching materials which form part of a "prepared environment," to enable children to learn individually, at their own pace, in a non-competitive atmosphere.
The basic Montessori concepts as follows:
The teacher must pay attention to the child, rather than the child paying attention to the teacher.
The child proceeds at his/her own pace in an environment controlled to provide means of learning.
Imaginative teaching materials are the heart of the process.
Each of them is self-correcting, thus enabling the child to proceed at his own pace and see his own mistakes.