Bloomington Montessori School in the News
Meridith to lead Bloomington Montessori School
Article by April Toler, orginally appeared in The Herald Times on 4/29/2013. Reproduced with permission.
Roger Meridith is the new Head of School for the Bloomington Montessori School.
Meridith replaces interim head of school and retired Montessori teacher Linda Mjolsnes.
Susan Yeley, president of the school's board of directors, said it was both Meridith's extensive educational background and open personality that impressed both the board and staff.
"We were struck on the search committee, and by everyone that encountered him, on what an open person he was and really what a people person he is," Yeley said. Meridith has more than 35 years of experience in educational administration including having served as Head of School for Pinnacle School, director of education at the John Waldron Arts Center and as athletic administrator in the Cincinnati Public Schools.
As head of school, Meridith will conduct some of the administrative duties that for years were done by Montessori teachers.
"We are really looking for an educational leader, someone who can take the administrative burden off of the teachers and start to solidify a positive child-centered culture," Yeley said. "I think he'll be able to do that."
Meridith, who began his new job last week, said he looks forward to being a part of the deep-rooted Montessori community.
"It's a great community . and it's an exciting opportunity and I'm looking forward to beginning to increase and grow this great community here," he said.
---
Students, parents and teachers cooperate to give
This article, special to the HT, orginally appeared in The Herald Times on 1/7/2013. Reproduced with permission.
Every year during the holiday season between Thanksgiving and Christmas vacation at Bloomington Montessori School — during the time most children are likely thinking about what they hope to get — we turn our focus toward what we can give.
The first- through third-grade children make crafts to sell, and we hold a bake sale to raise money to sponsor a needy local family and support charities the children choose.
Each child has a job in the project: Some make posters advertising the sale, some take a shift selling at the sale, some go shopping to buy the gifts, some make cards for the family and some deliver the gifts.
Then we hold a "peace circle," in which the children choose charities to support with any money that is left over after the gifts have been bought.
This year, we raised a record $1,313!
We sponsored a family with three children, and then gave money to seven different organizations: World Wildlife Fund, Habitat for Humanity, ASPCA, Bloomington Animal Shelter, Doctors Without Borders, Heifer International and CARE.
These organizations represent the children's care and concern for animals both domestic and wild, for children around the world, for people needing homes and medical care in extreme circumstances.
We are deeply grateful for the support of our wonderful community of parents, without whose baking and buying of baked goods and crafts this project wouldn't be possible.
It provides the children the priceless experience of giving of themselves to help others, and is a cornerstone of our peace education at Bloomington Montessori School.
---
Building addition allows Bloomington Montessori School to add students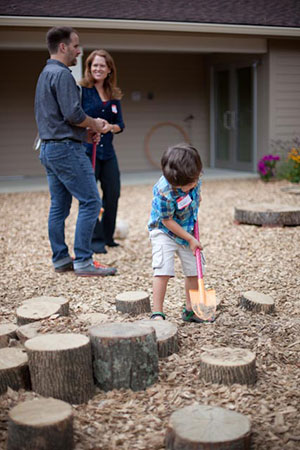 Article by April Toler, orginally appeared in The Herald Times on 9/18/2012. Reproduced with permission.
When Eve Cusack attended the Bloomington Montessori School in the late 1970s and early '80s, the school was one classroom, two teachers and a handful of students. Although the school's philosophy on education has not changed since that time, the building and its student population have continued to grow, a fact that is not surprising to Cusack, who now teaches at the school.
"I think that in itself speaks for the demand for Montessori education in this community and to the outcomes that people see with children who go through our program," said Cusack, who teaches students ages 3 to 6.
The Bloomington Montessori School recently completed a 6,000-square-foot expansion that provides more space for its current students and allows it to serve more children.
The expansion meant the school's growing group of 6- to 9-year-old students could move into the new addition, letting the 9- to 12-year-old students move into the younger students' old classroom, which is larger.
"The 9-12 kids get a lot more space, and now they have dedicated space for curriculum areas that they didn't have before," said board president Sara Yeley.
The extra space also allowed for a second, all-day preschool classroom and upped the school's potential capacity from 160 students to around 220. "We've always had a huge wait list at the 6- to 9-year-old level, particularly, and at the preschool level," Yeley said. "So we've been able to offer spots to everyone who's on our wait list, and we can take more."
Amy Lifton has been teaching at the Montessori School for 16 years. She said although the school has always maintained a small student-to-teacher ratio, prior to the expansion, all four teachers and the students were in the same room. That made crowd control a little difficult, according to Lifton.
Although the student/teacher ratio is the same, the expansion has allowed the classes to spread out. So students have the benefit of quieter, smaller classes in the morning and larger, group activities in the afternoons.
"Now that we each have our own separate space … the atmosphere is calmer and quieter so we can spend more time working with individual kids and teaching small group lessons," she said. "The room just feels more calm and spacious and peaceful."
While staff and students are excited about the expansion, students such as 11-year-old Frances Sheets said the school still feels like the tight-knit community so many of them have come to love.
In fact, the small classrooms and closeness of the students and staff is what the sixth-grader said she likes most about attending Bloomington Montessori School.
"It's small, so you know everyone and you're good friends with everyone," Frances said.